How we do it
From the initial step of clarifying and advising based on a client's idea to the later steps of product implementation, distribution and maintenance, our organization takes care of the entire process. With production offices and facilities in China, the Netherlands and the USA, we are able to provide our clients with optimal product solutions, thorough management of their projects, and a guarantee of the highest quality and standards.

All in all, these services and assurances lead to long-term relationships with our clients, including many A-brand manufacturers. We take great pride in the fact that products of Dekkers International B.V. can be found all over the world.

Let us turn your branding vision into impactful On and Off Trade marketing solutions:


Project management
When doing business with Dekkers International B.V., every project starts with an orientation meeting with one of our account managers. During this meeting, you are informed knowledgeably and efficiently about the possibilities concerning your ideas, needs and wishes. After this initial meeting and throughout the duration of your project, this account manager remains your personal contact. Behind the scenes, you are able to rely on an expert team whose goal is to monitor and take care of your entire project down to the smallest of details. Along with the account manager, your project team consists of a project manager and a product developer/designer. Their combined expertise, in combination with your input, ultimately guarantees a product of the highest possible quality and standard.
Design
Point-of-Purchase and promotional products must communicate your message in the most effective way possible. In our designs, we promote the strengths of your brand and product to the consumer in a striking way. Our design solutions distinguish themselves from the masses by taking important factors, such as functionality and your goals, into account. Our design studio works with the latest 3D-design software. In the conceptual phase of a project, the innovatively designed products are professionally presented using state-of-the-art 3D-presentations. This allows us to offer you an extremely photorealistic view of how your display would appear to your target audience.
Prototyping
Prototyping of a product is an essential phase of the process to create the final design. Through this prototype, we offer you the possibility to request "last minute" adjustments to the design. It allows you to judge if the new product fits all of your needs and wishes. On request, a prototype can also be made available for testing in practical situations. Is it attracting attention in the desired way? Do the consumers comprehend the message? Is it appropriate and suitable to the desired locations? By testing all of these aspects, we can be assured to arrive at the desired result.
Production
Production is carried out by our production partners based in Europe and China. Project monitoring and management are handled by our offices in Eindhoven (the Netherlands) and Quanzhou (China). Through this chain of organization, we are able to allow for and manage the needed flexibility in our production process while guaranteeing high standard quality for a good value in money.
Logistics
Once the design and production phases of your promotional product are complete, you can also rely on our service to take care of the complete post-production logistics. From our offices in Shanghai and the Netherlands, we can assure quick and effective world-wide distribution services for our clients. Besides organizing transport of your products to the desired warehouses, we can also arrange delivery and placement of your displays, signs or promotional coolers at their final destinations. If desired, distribution of international products to destination sites abroad can be coordinated by our Logistic worldwide network. Offering this service generally provides you with cost savings.
A successful branding project from start to finish
From budget allocation to shipping the final product
Based on our long-lasting experience and collaborations with a wide range international brands, we've gathered all our best practices in a practical Guide.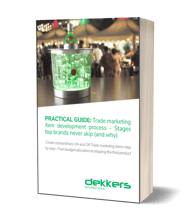 This guide provides pragmatic advice regarding:
Keeping a grip on your expenses

by making sure you don't exceed your budget
Staying in control of your planning

to ensure the set deadlines and lead times are met
Developing innovative and effective trade marketing items

that attract and engage consumers