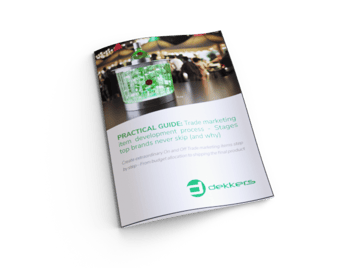 Get an instant overview of an optimal trade marketing process for item development.
Our practical guide helps you keep an overview and efficiently manage your on- and off-trade branding processes by outlining the ideal trade marketing product development process.
This guide provides pragmatic advice and trade marketing plan examples on topics such as:
Keeping a grip on your expenses by making sure you don't exceed your budget or fall below it
Staying in control of your planning to ensure the set deadlines and lead times are met
Developing innovative and effective trade marketing items that attract and engage consumers
This guide will help you create innovative, high quality and sustainable branding items and thereby realize the
highest possible ROI while maintaining optimum quality and sustainability standards.