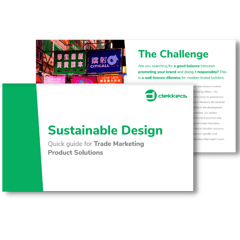 Find the right balance between promoting your brand and doing it responsibly. Take a look at this sustainable design guide for trade marketing items.
This guide provides valuable insights into:
Top design solutions to boost sustainability
Smart packaging for smarter transport
Design for less energy consumption
Use a prototype to avoid extra costs & save energy
Future proof digital design
Establish a solid product sustainability strategy that fits your sustainability vision and extend your practices to your trade marketing plans!