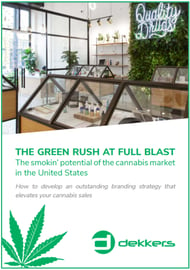 Learn all about how to develop an outstanding branding strategy that elevates your cannabis sales.
The cannabis industry in the United States is exploding. How to establish a frontrunner position in this highly competitive market?
This whitepaper provides valuable insights into:
The major challenges cannabis brands are facing, such as the difficulty to stand out in dispensaries
Why now is the perfect time to invest in building a solid brand identity
How to successfully achieve goals by improving visibility and brand experience
Establish a solid marketing strategy to increase your profits and become an authority in this market!