EcoVadis, a leading sustainability rating organization in the world, granted Dekkers the gold level certification last year. As a result, one of the milestones on the road to becoming fully climate neutral in 2030 was achieved. With the gold level, Dekkers entered a global network of the top 1% of sustainable companies in the advertising and market research industry.
"As a supplier, we are no different to any company who take responsibility for their footprint. We want to minimize our environmental impact as much as possible", adds sustainability manager Willeke Muno-van Uden.
Read on to discover how Dekkers plans to achieve its big ambitions and what that means for our partners.
2030: The Dekkers carbon-neutral chain
Each step counts on the road to becoming a more sustainable company and employer. Dekkers has set ambitious goals to become a carbon-neutral company. Every year, initiatives are planned to reduce and compensate for our daily business activities' carbon emissions. This program will be extended to our entire supply chain, and eventually, we plan to create a total carbon-neutral chain by 2030.

As a part of the involvement of partners are clients, we have taken the necessary steps to begin the sustainable journey together. To start, products are offered with 100% sustainable packaging (plastic-free). Sustainable alternatives, such as different material choices, are given proactively to clients so that they can extend their CSR practices to the sustainable production of their trade marketing materials. Once enough competitive and realistic options are available, Dekkers will ban all non-recyclable materials and commit to full transparency in the supply chain. Focus is also put on the impacts of the office and the employees at Dekkers. A plan is in place that emphasizes the well-being and sustainability of employees to keep their vitality. CO2 reduction and compensation will stay a common topic that will impact how employees travel and how the office building operates.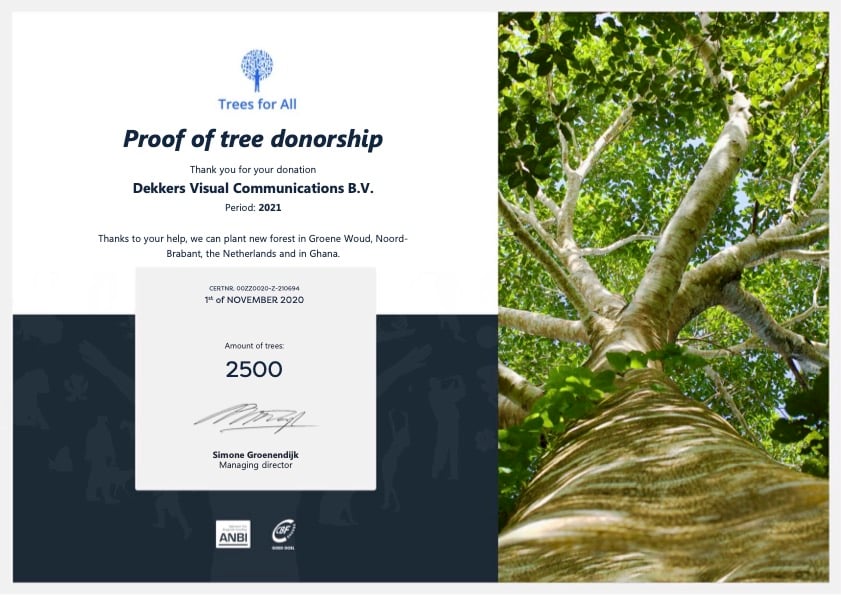 Trees for All official certificate. Dekkers has invested in planting more trees to create better air and a more green environment.
Sustainable partnerships
Involving the supply chain and acting as an advisor for clients who want more sustainable options is an essential element of what Dekkers calls "being a sustainable partner". Clients can also benefit significantly from working with certified sustainable suppliers as it adds to their overall CSR imprint.
The interdependence found in the whole supply chain of creating new products and branded materials shows the joint responsibility needed to achieve actual results. Dekkers' clients, suppliers, and logistics partners will be continuously included in the developments on the road of sustainability.
"We hope to inspire others with our actions and share insights where relevant. Like this, we believe the bumpy road of sustainability can become smoother thanks to joint action and shared knowledge," adds Willeke.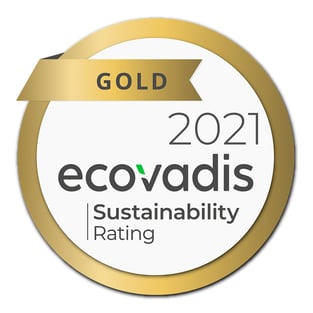 Are you looking for more sustainable options for your branded products? Download our Quick Guide for Sustainable Design, including the top 4 sustainable design requests from clients >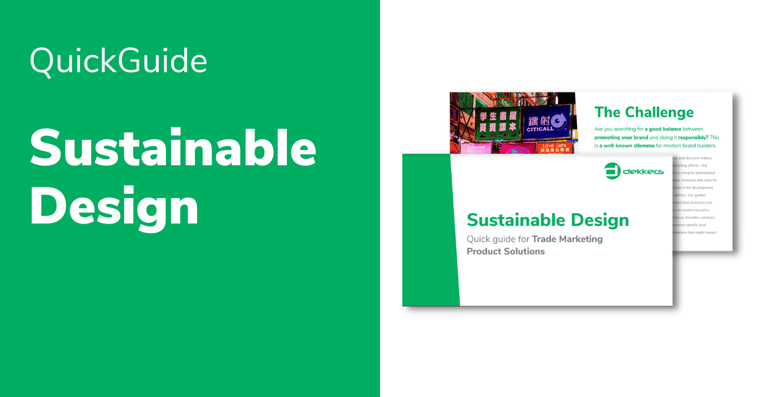 At Dekkers International, we are strongly committed to delivering high-quality and sustainable products. We feel the responsibility of keeping you fully informed on this issue, and in taking action in this regard. Do you have a sustainability-related question? Get in touch with one of our experts to discuss your ideas and help develop a branding plan that genuinely stands out.