Brick-and-mortar stores have gone through multiple evolutions. Not so long ago, the COVID-19 pandemic pushed retailers and brands to adapt quickly to new shopping needs like click-and-collect and distanced shopping. This meant adapting indoor and outdoor signage to create a safe and secure shopping experience. However, the vital roles of signage remain the same. They still serve as building blocks for branding, driving traffic and creating a pleasurable store experience.
Although retail branding and the in-store experience goes further than brand signage, these signs are a central element to creating a top-quality impression and communicating with customers. For this reason, every visual element needs to fit flawlessly in-store and be consistent with all brand touchpoints. Read on for 3 retail brand sign types for in-store and outdoor visibility, including tips on applying them to your business.
Movement attracts: elegant animated signs
Audi animated LEDNeon sign
Movement is known to be a definite eye-catcher. However, capitalizing on the power of movement for branding is only achieved if done elegantly. This means making sure the movement is subtle, creative and far from overwhelming (like a flickering neon effect). With current LEDNeon© technology, movement can be adapted to diverse sizes, colours and fonts, giving brands full design flexibility. Check out a selection of top designs from brands worldwide in our retail portfolio.
The classic LEDNeon© brand signage for indoors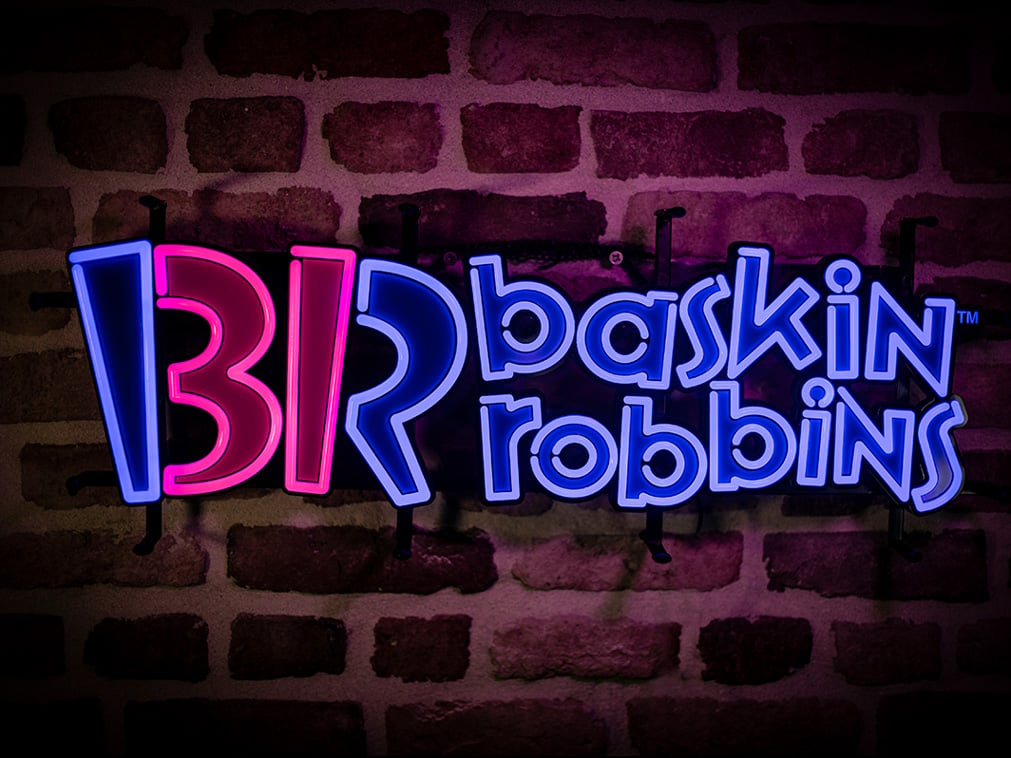 Baskin Robbins LEDNeon sign
Storefronts need bold signage when it comes to leaving a good impression. However, indoor signage can be just as effective while customers hurry to make their purchase. Brands can recreate their exact look, feel, and ambience thanks to illumination options. LEDNeon© signs can reproduce the nostalgic neon feel but use more sustainable materials, have more extended durability and consumes less energy. These characteristics give LEDNeon© its competitive edge and is a preferred option for brands worldwide.
Interested in a LEDNeon©option for the outdoors? The R&D team are currently finalizing the first-ever outdoor LEDNeon© signage. Check out the sneak preview!
| | |
| --- | --- |
| Looking for more inspiration? Download our retail global brands portfolio. | |
Be super relevant: from customized to personalized signs
Whether it's the latest big event, a seasonal greeting or a specific city where the store is located, adding personalized elements to the retail sign has multiple advantages. Being highly relevant for the moment, personalized (highly customized signs) are known to stand out from the crowd, build positive associations and can increase online social presence thanks to customers' sharing activities.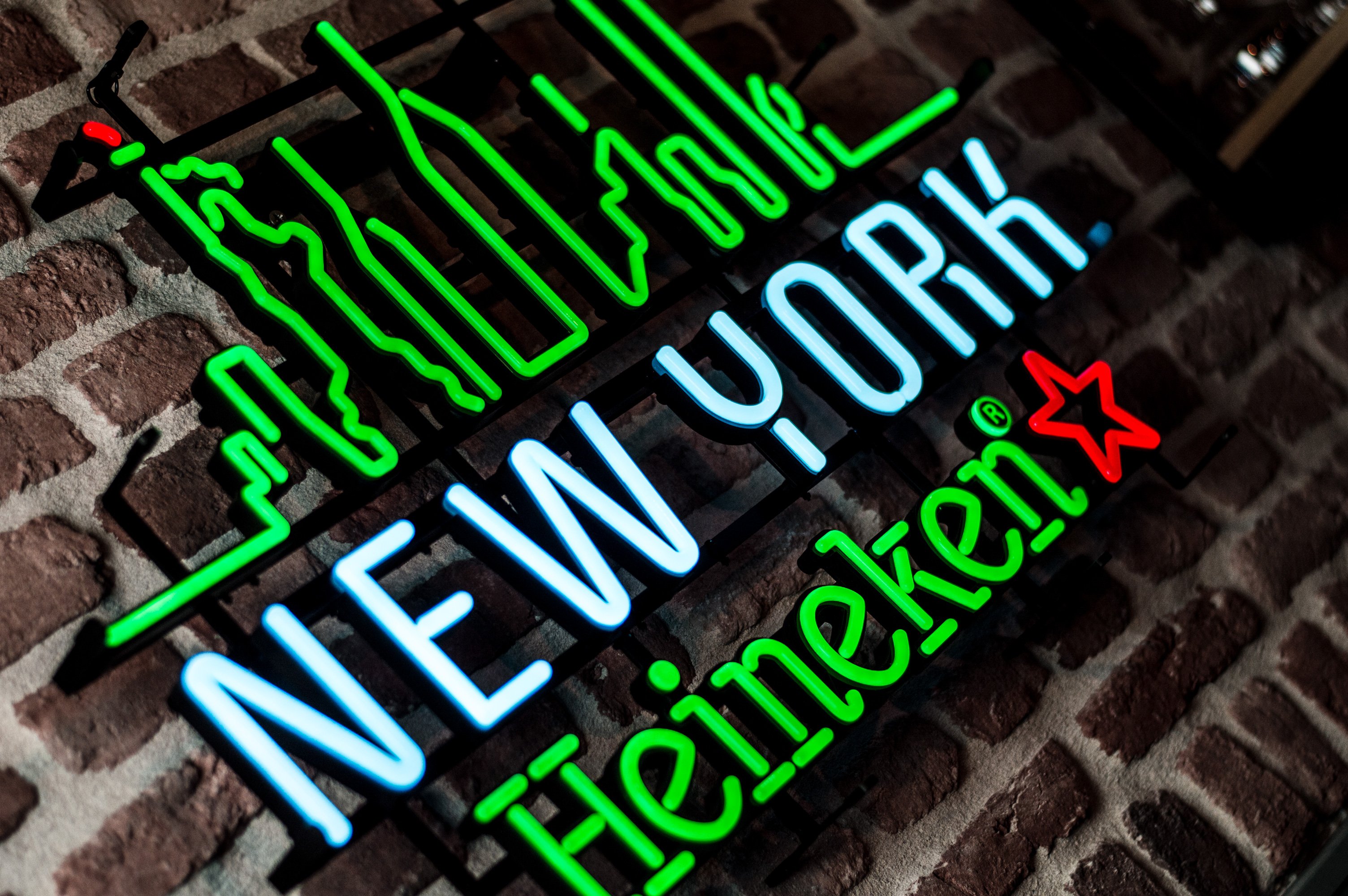 Heineken Cities Concept- Personalized sign series
The personalized elements can also be easily interchangeable thanks to the modular options, allowing store brand builders to adapt to changing tastes and trends. Check out our blog post on personalized signs for more inspiration.
Creating future-proof retail signs
Whether you're going for a dynamic, playful version of signage or the classic style exact recreation of your logo, there are a couple of crucial pointers that are known to make or break the brand's reputation.
Using a high-quality strategy as a differentiator.
At Dekkers, we are serious about quality, and for good reason. With high-quality branded items you can differentiate your brand and boost credibility. Imagine, the effect of a branded sign or retail display that has faded due to weather conditions or is missing components. The impression it leaves (potential) customers can be long-lasting and even weaken the built-up brand reputation. Following a high-quality strategy at all touchpoints is crucial for a consistent and future-proof brand experience. Read more about the benefits of the quality for a brand here.
Sustainability in all touchpoints - also signs.
Retailers know like no other that their business has an impact on the environment. However, by examining each brand touchpoint there are multiple opportunities to integrate more sustainable solutions that benefit the long-term existence of the business and the planet. For example, our retail signs and innovations are built on the principles of sustainable design. These principles are built on solutions for less energy consumption, less material usage and the final reusing or recycling stages.
Furthermore, by working with sustainable packaging, decarbonizing transport and making sure objective third parties track our progress, we can hold our title of a certified sustainable supplier with credibility even if the road to sustainability is a work-in-progress for all organizations. This is important for brands who want to make sure their CSR efforts are strengthened by the partners they work with.