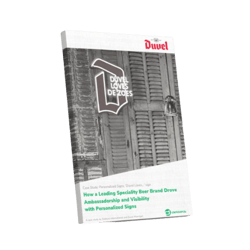 Beer marketing case study: find out how a popular Belgian beer brand like Duvel uses personalization for visibility and brand ambassadorship at key locations.
Jeremy Vanwetter, Global POS Manager at Duvel Moortgat, provides valuable insights into how they used personalized signage under 'Duvel Loves...' to build brand ambassadorship with café and bar owners while increasing visibility.
Duvel beer on-trade marketing & POS strategy
In this trade marketing case study for the popular beer brand, Duvel, you'll read about:
The 'Duvel Loves...' campaign launched successfully in The Netherlands and Belgium. It is now extended to new countries and new marketing channels.

How the Duvel team built the campaign on one of their key success factors: personal relationships with bar and café owners.

How personalized signs received much positive feedback from customers and consumers alike, including organic reach through dedicated social posts.

How personalized signs receive a prominent spot thanks to their relevancy and likeability.
Grab your copy of this exclusive trade marketing case study (for free)!
This case study was made in collaboration with Duvel Moortgat.