Case: Invicta Watches | Retail Displays
Invicta watches are known for their original design, first-class engineering and ability to satisfy diverse tastes while pleasing the collector's passion. For a selection of items from their portfolio, our mission was to create premium retail displays that stand out from the competition but with strict size limitations of high-profile, busy locations.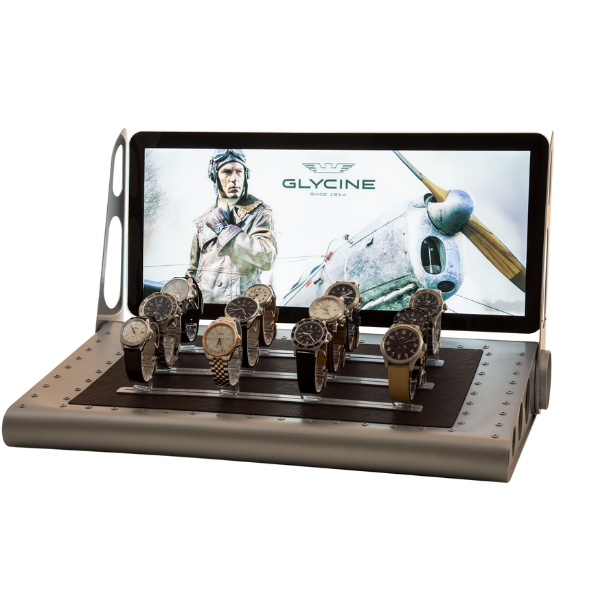 "We recreated the brand experience for each unique display design using the maximum possible space. All displays are lockable making them safe for public spaces."
Camilo Giraldo Otalora
Designer - Dekkers
The Invicta Watches Retail Display Tower
Watch the video of the creation of an on-brand retail display concept for crowded airport locations with restricted floor space. The unique form of the display was inspired by the rotating characteristic of watches.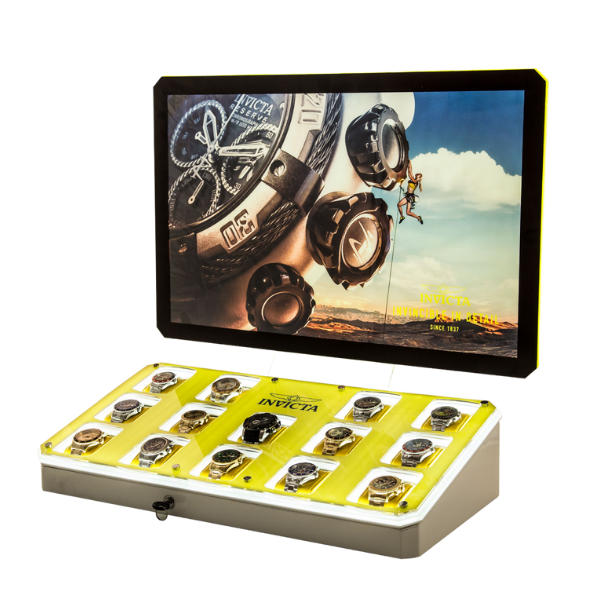 "Each in-store display is made from durable, high-quality materials. They are equipped with an interchangeable visual display to match changing marketing needs. "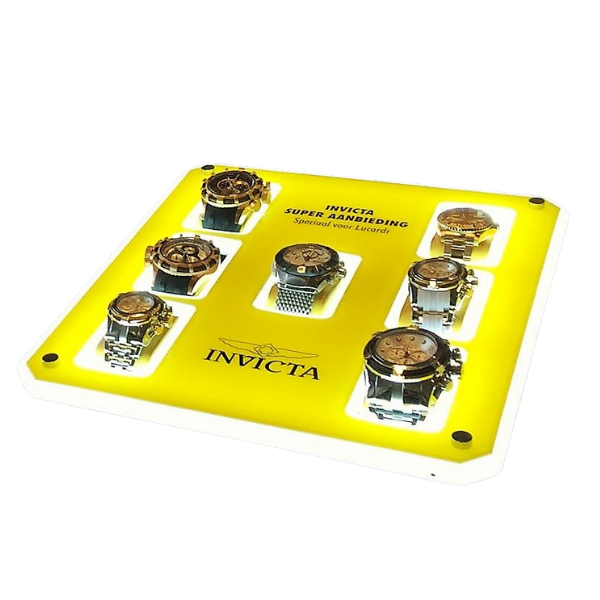 "The design was fit to each identity but left space for personalization. Invicta's custom set was made for their valued distribution customer, Lucardi, by adding a special note and co-branding on the surface."
Learn more about the benefits of personalization
Case Invicta Watches | Premium Retail Displays
The Challenge
To create a selection of retail displays that respect strict size limitations but can recreate the unique experience of each watches' brand identity —in this way, creating a significant impact through visual communication in busy and crowded spots.
The Solution
After translating each design to the customized interface, we used highly durable materials giving each item a top-quality perception fitting to the brand identity. By adding interchangeable display options and personalization add-ons, specific marketing objectives could be integrated. Furthermore, (LED) illumination was used prominently in each display to highlight the bold character of the brand.
The Result
Maximum visual impact in a confined space satisfied the need to stand out from the competition with an original concept and gave changing marketing needs a space to play with visual identity through interchangeable displays. In addition, the displays were made to fit the requirements of every unique location request, thereby creating a reasonably easily adaptable compact brand experience.