Case: Heineken® Silver Bottle Glorifier and Illuminated Sign
Heineken® Silver is the newest beer innovation from The HEINEKEN Company. For the launch, our mission was to create an illuminated bottle glorifier and wall signage for one of their key distribution channels: bars and hospitality outlets. It needed to incorporate a new design while staying close to the original strong brand foundations. The new promotional items also had to adhere to their fans' high expectations and satisfy quality standards.
"For the launch of Heineken® Silver, we were looking for merchandising materials that brought the fresh, playful and dynamic brand elements to life while staying close to the fundaments of the original Heineken® brand. With close collaboration between our brand-design team and Dekkers, we created the perfect balance between new and original."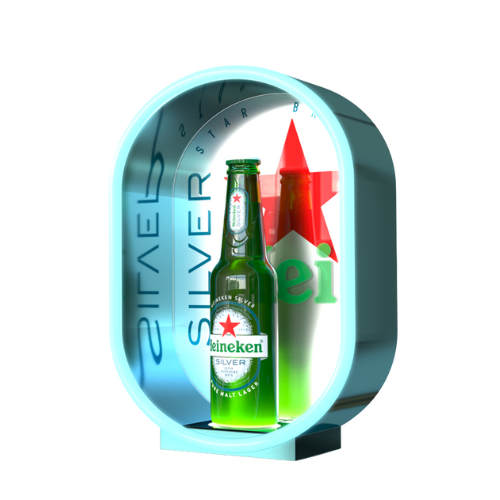 "Working with minimal existing artwork for a new product, we based the design on the bottle label artwork. Each element of the label was carefully adapted to the design of the glorifier, including the product form."
Dennis Klerkx
Designer - Dekkers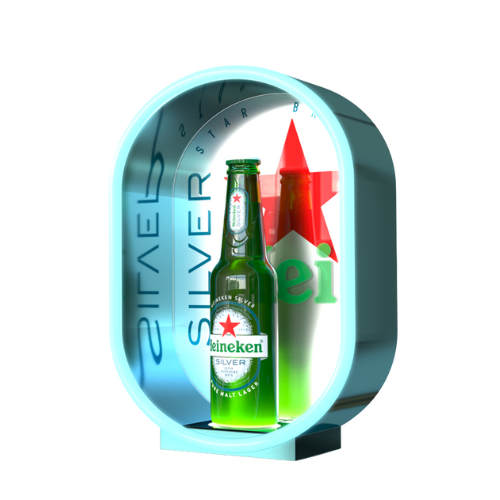 "The blue LEDNeon© and white bottle illumination creates a vibrant impact and depth. Additionally, the embossed 3D effect and the irregular placing of brand elements added to the playful character."
Dennis Klerkx
Design - Dekkers
Learn more about the benefits of bottle glorifiers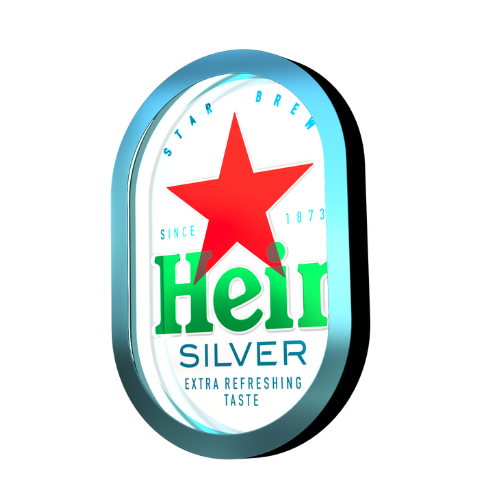 "For the full bar experience, the illuminated wall sign brings an additional behind-the-bar visibility item in line with the label artwork and acts as an extension to the bottle glorifier. "
Video original source:
Heineken® Youtube Channel
Case Overview: Illuminated Bottle Glorifier and Wall Sign
The Challenge
Create more visibility for the new Heineken® Silver beer at key distribution spots. We needed to create a premium set of marketing products that cater to the goals of:

(1) increasing brand visibility at the bar,
(2) introducing the new Heineken® Silver beer, and
(3) creating high-quality promotional items that complement each other. when used together.
The Solution
We based the design of a bottle glorifier and matching illuminated wall sign on the Heineken® Silver label artwork. Each element of the label was carefully adapted to the design, including the form.By adapting the label design and enhancing the fresh and playful character through illumination, embossed artwork and style; the final products were successfully launched together with the large scale cross-channel marketing campaign complimenting the overall look&feel.
The Result
As a result, the promotional products became a valued addition to the trade marketing strategy, with more items to come. Meanwhile, constant innovation and improvements are taking place. In the following case study, we will look more into the feedback and developments of these branded items. Sign up to be one of the first to hear about it.
Keep learning. Keep growing.
Dive into the latest related stories and best read blog articles here.
Discover more knowledge