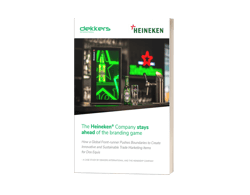 Find out how a global frontrunner pushes boundaries to create innovative and sustainable Trade Marketing items.
Jairo Camacho, Marketing Activation Manager at The Heineken Company, provides valuable insights into how Heineken is able to continuously innovate their branding strategies with groundbreaking Trade Marketing items.
In this case study, you will read about:
Heineken®'s main challenges relating to sustainability, cost reduction and lead time reduction.
How Heineken successfully copes with these challenges by making smart choices throughout the value chain.
How close collaboration with Dekkers International leads to innovative Trade Marketing items, while still realizing sustainable growth and cost savings.
Get valuable insights into Heineken's daily marketing operations. Grab your copy of this exclusive trade marketing case study for professionals and enthusiasts.