While the debate over the benefits of cans over bottles continues, there is no doubt that cans used for alcoholic beverages have received a fresh revival in many markets with an expected growth to come (Future Market Insights, 2022). This growing trend is evident across sectors and the reasons to promote cans have grown.
While observing large commercial beer brands switching to cans from an ambition for more sustainability and resource diversity, others seem to prefer to use cans to reach their fans and consumers with the additional branding surface cans have to offer.

This observed trend brought a unique design opportunity for Dekkers. The mission? To create an interactive canned beverage brand product that stands out. The result? The Can Tower: a high-quality product experience for events, clubs and busy locations with an action focused grab-n-drink functionality.
Snapshot of the Benefits
Fully customizable, branded surface

Illuminated front panel to attract extra attention

Perfect for getting visibility at events and busy locations

Possible to request custom height and can size

Engage with consumers through the grab-n-drink system

Cooling compartments for freshness

Enhanced canned beverage quality perception

Modular design for easy replacement & recycling of components
| | |
| --- | --- |
| Want to see more examples of effective brand signage from brands worldwide? Download the portfolio (for free). | |
Brand and marketing needs the new Can Tower can solve.
1. Promotional product with a consumer-brand interactive element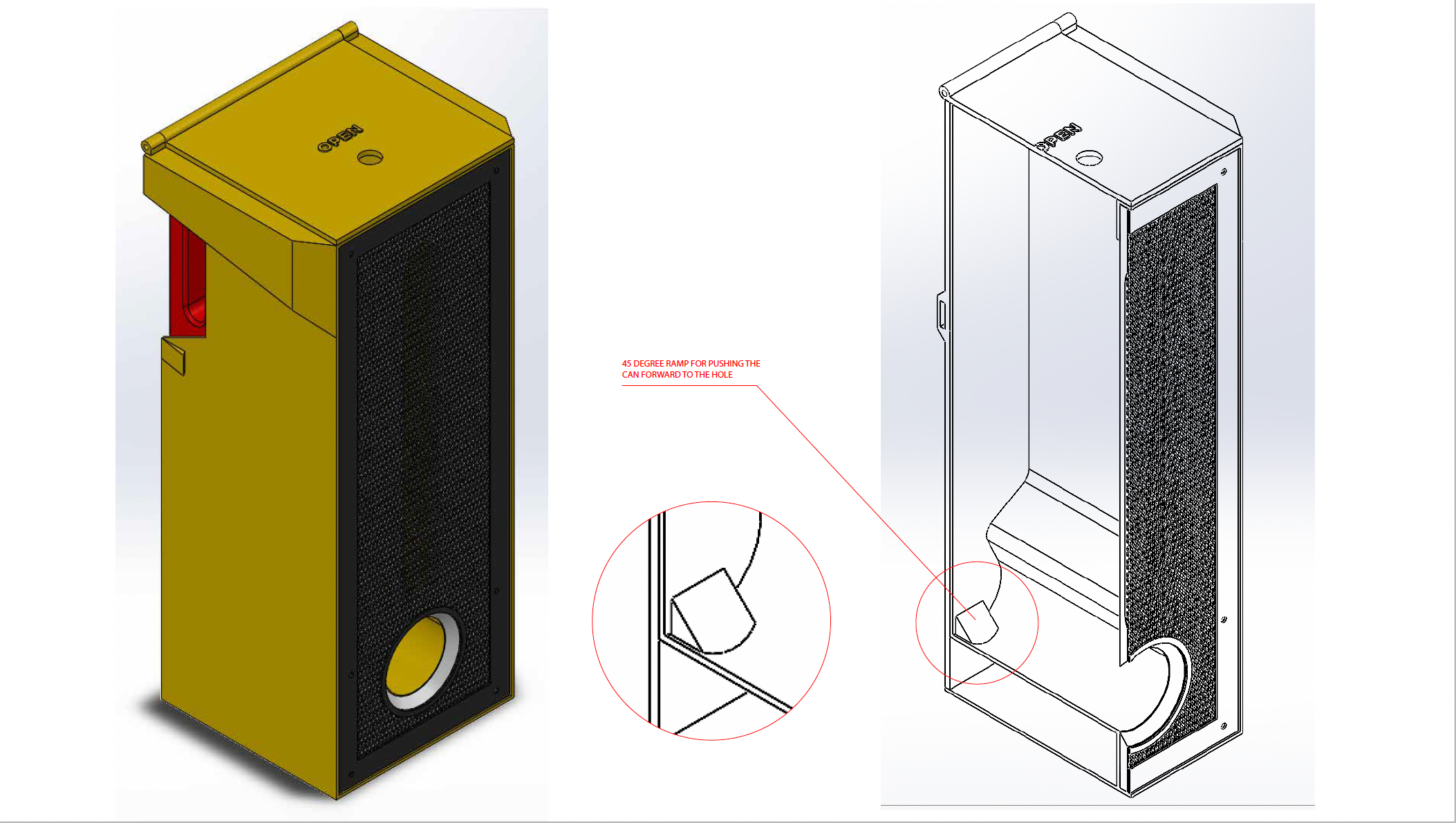 Concept - Can Tower technical drawing for can push technology
Whether you aim to create a brand experience in a bar, in-store or at events - the aspect of consumer-brand interaction is an unmissable component. Brands need to stand out and find ways for customers to engage with their products to elevate the total brand experience. Thanks to the combined elements of an adjustable height, a fully brandable surface with illumination and an interactive grab-n-drink component, you can now create an eye-stopper for canned drinks potential customers will want to check out and interact with.
2. Building the quality perception of canned beverages
This promotional item also had to cater to the growing demand to position canned drinks as practical and a high-quality drinking experience. Although canned beverages share the benefits of keeping taste longer and are made from one of the most recyclable materials, their quality perception is still an area of concern for brand builders. Consumers still worry about the impact of aluminium on the taste or associate cans with cheaper variants. Brand builders need to reposition the canned beverage as both a portable and a quality option for beverage brands. Using the high-quality Can Tower with an illuminated front panel and smooth functionality increases the overall quality perception of the beverage and the brand associated with it simultaneously.
3. Using a cooled product solution for direct consumption
Often when choosing to bring more visibility to your beverage at busy hospitality locations or in-store - the question arises if you are going for a full functioning fridge display or need to make use of limited space or a dynamic setting where highlighting the brand experience through a fake fridge display is more beneficial (read our previous comparison blog: Real vs Fake Fridges here). The Can Tower is the best of two worlds. Thanks to the cooler pack compartments, you can keep the beverages cool long enough for people to grab-n-drink at the right temperature. On the other hand, you can opt for a compact size that fits easily on a table or bar between large groups of people without all the cable and electricity requirements that come with a fully functioning fridge.
Sustainability through modularity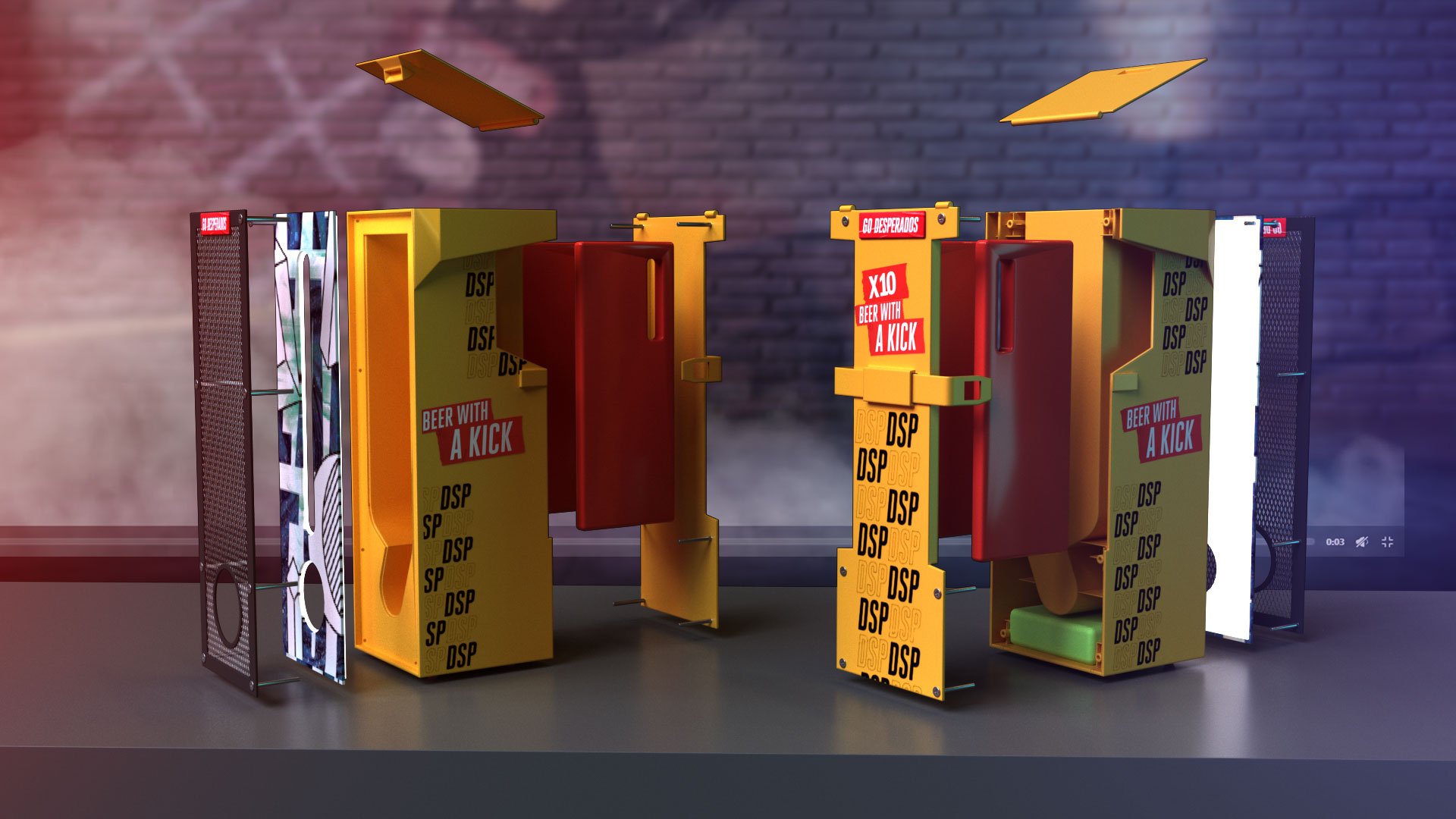 Concept - Can Tower for Desperados beer cans

Following a modular design approach, all components of the Can Tower can be easily dismounted. This modular set-up also allows easy replacement of elements instead of replacing the entire item. Depending on material choice, the components can be recycled.
Opting for the Can Tower also means having a display of products that don't use as much energy as an actual fridge—keeping the freshness of the beverages through the cooler compartments and custom icepacks.
The replaceability of components, following the Right2Repair Movement, allows end-users to repair or replace components, avoiding excessive production. Find out more about this in our recent trend report: 5 Global Trends to Look Out For in 2022 - and how you can use them to supercharge your brand.