New feature: future-forward additions for the B.360 fridge
The B.360 - a customizable and compact fridge on the bar - was recently launched to answer key brand needs of (1) occupying an eye-level premium spot and (2) gaining visibility through a 360° product exhibition. But, of course, we couldn't sit still, so the roll-out of an essential addition is here! The B.360 fridge is now not just a definite eye-catcher but is also more environmentally conscious and in line with critical sustainability standards.
We achieved this through the new removable and replaceable cooling unit and through adhering to the strict guidelines for energy efficiency and consumption in the EU/EEA markets (namely: EPREL C level). We want to make sure brand builders don't need to choose between impactful brand solutions and future-forward products.
The main benefits in short
Easier maintenance thanks to the removable cooling system
Fewer maintenance costs with removable components
Fewer production emissions with replacement of components
Less energy consumption
In line with EPREL C EU/EEA standards
The removable & replaceable cooling system.
The main addition to the B.360 is the removable cooling system. This gives two significant advantages for customers selling your beverages. On the one hand, maintenance becomes more manageable and less costly. On the other hand, replacing this main component instead of the whole product itself saves costs, cargo space and production energy.
The replaceability of the cooling system, following the Right2Repair Movement, allows end-users to repair or replace components, avoiding excessive production. You can find more information about the Right2Repair Movement in our recent trend report ("5 Global Trends to Look Out For in 2022 - and how you can use them to supercharge your brand.").
See it to believe it? Find out more about the brand challenges the B.360 solves right here >>
Lower consumption in line with EU/EEA standards.
The EU energy labelling and ecodesign legislation help improve the energy efficiency of products on the EU market. With a clear indication of energy efficiency and consumption levels, organizations and consumers alike can make informed, more sustainable choices. Not only are these choices better for the environment through lower greenhouse gases, but they contribute to lower energy costs. The B.360 fridge is equipped with the "C-level" standard, which brings this compact and customizable fridge in the "green zone", third from the top. At Dekkers, we follow a premium-quality strategy and have a set ambition to become climate neutral in 2030. This means not only as a company but also as a sustainable supplier throughout the supply chain and as a partner to brands. Adhering to sustainability standards is part of this process, as is following a beneficial, high-quality product strategy.
A premium experience boosts premium product sales.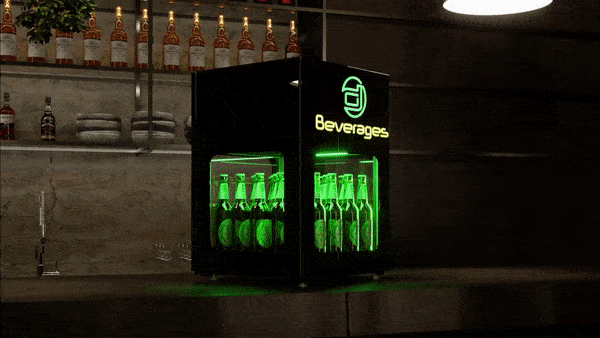 The essence of the B.360 fridge brand experience on the bar
The main captivating selling points of the B.360 haven't changed. Brand builders can still:
Exhibit beverages with the 360° experience of full glass walls and internal LED lighting.
Use flexible design and adapt the fridge to brand needs, lighting preferences and the bar's requirements.
Adjust the size to hold different combinations of beverages while keeping your eye-level position.
| | |
| --- | --- |
| Download the B.360 factsheet for specifics. | |
Interested in finding out what the B.360 customizable and compact beverage refrigerator can do for your brand? Reach out to our dedicated team or leave a request for a call-back here.