As explained in our previous blog, high-quality products lay the groundwork for your main objective as a Trade Marketeer: attracting and engaging consumers. Needless to say, the quality—and thus the safety—of your marketing products must be validated by objective and autonomous examinations and reports. Diving into the process of quality reporting may sound a bit boring, but doing so—and doing it properly—will greatly contribute to the rollout of your branding plan!
In this blog, we explain how quality reports help you build a strong, premium brand while reducing the risk of long lead times due to quality-related delays. We will also show you how a knowledgeable supplier who takes care of quality reporting for you can save you a great deal of time, stress, and money.
Why should you worry about quality reports?
To market a product in certain countries or regions, you will need a document confirming its quality and safety. A document simply summarizing the product's test results usually isn't sufficient proof of quality, however. You will need to back it up with underlying test reports that specify in detail how the test results were obtained. Although quality compliance may not be the main responsibility of trade marketeers, it's definitely worth dedicating some time to.
Here are three reasons why obtaining extensive test reports directly works to your advantage:
1. Quality test reports validate the quality delivered by your supplier
We can't emphasize it enough: high-quality and reliable marketing products are the foundation for establishing impactful brand experiences. Just claiming your products are reliable doesn't cut it—you will need to be able to support this claim with extensive and independent reports to confirm that your supplier holds its promise when it comes to producing safe and high quality products.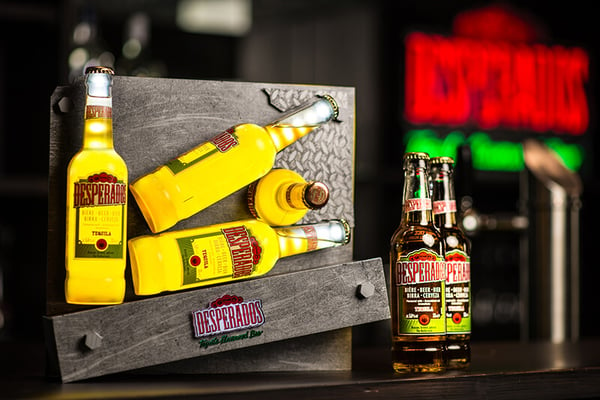 2. Quality test reports secure a carefree journey for your marketing items
When shipping your Trade Marketing items across borders, be aware that imported goods are checked by customs and that handing over quality reports is mandatory. Sooner or later, your parcel will be the one picked out for inspection, and without quality reports, your products will not be imported.
However, with the right paperwork in your pocket before the start of the logistical operation, there's no need to worry: your goods will be granted safe passage and your scheduled delivery times won't be jeopardized.
3. Quality test reports are a fundamental source of product quality information
Calamities. They rarely happen, but if they do, you can rest assured that your product complies with the safety requirements stated in your reports. As your most important source of information, quality test reports allow you to review your documents at any given time. Besides the fact that these reports ensure your exemption from liability, they will also help you accurately answer any quality assurance questions that might arise.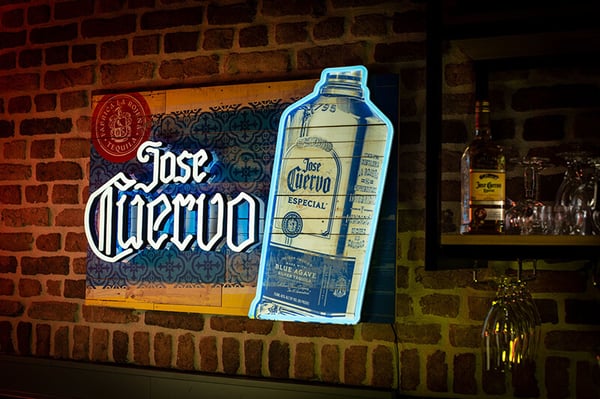 Don't try solving the puzzle all by yourself
Quality reports come in many shapes and sizes. The testing possibilities are endless and they all come with their own price tag. This can complicate the selection process.
Luckily, you don't have to decide on the right kind of quality test all by yourself. Save yourself valuable time and stress and partner up with a knowledgeable supplier who takes care of the whole quality test selection, execution and documentation process for you.
With a fully integrated quality management system, Dekkers International understands the importance and added value of reliable, premium products. Our processes are geared towards providing our customers with high-quality products. We take care of both the performance and the documentation of independent quality testing for you, whether required by Notified Bodies (like TÜV, Intertek or Bureau Veritas) or by other specialized testing institutions.
Here's how we handle your quality reporting: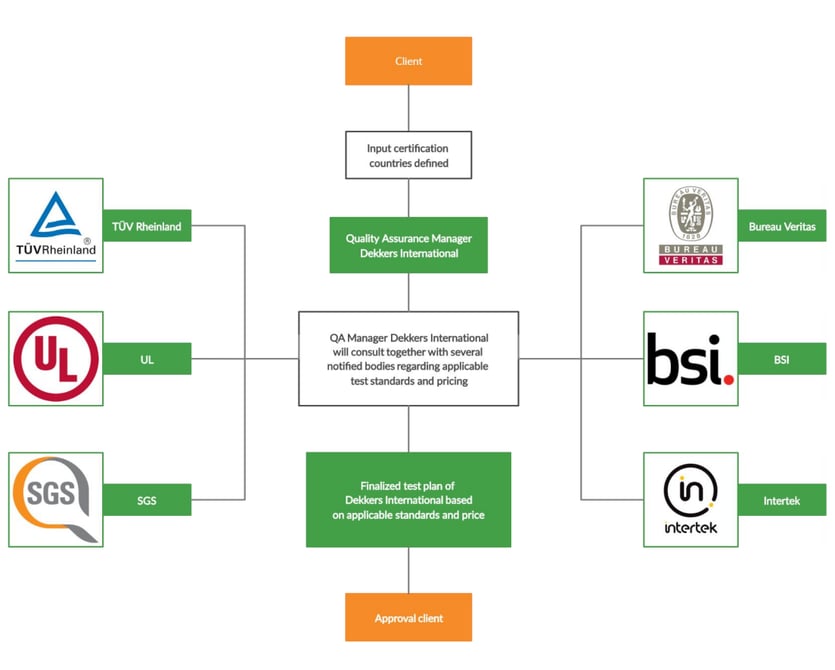 Dekkers International product certification procedure
Choosing the appropriate testing method and authority
Together with you and your quality manager, we decide which quality certification best fits your product, based on the type of product, your target markets, and your budget. (Do your products need to carry an official and reputable label? If so, a quality assessment by a Notified Body is required. Otherwise, less extensive and more budget-friendly testing might suffice.)
Thanks to our long-lasting partnerships with Notified Bodies and other testing authorities, our in-house Quality Assurance Managers can talk you through your options and provide accurate advice.
Supervising the testing and documentation procedure
After deciding on the appropriate safety requirements, you can simply sit back and relax, leaving the rest to us.
At the start of production, your products also enter the certification process. Once they've been labeled "safe" by the independent testing authority, we make sure all your marketing items in the series are 100% compliant with the quality standards set by the testing authority. Finally, we provide you with the complete quality assurance documentation, all while keeping an eye on your planning.
Every year, we take care of numerous quality tests and reports on behalf of our customers. This enables us to keep costs to a minimum. So by having your quality documentation managed by us, you will also save unnecessary expenses.
Our way of working ensures that your product's quality is not just a stamp on a piece of paper, but is truly justified by an autonomous specialized authority.
Do you have any quality-related questions about your marketing products? Or are you looking for advice? Reach out to our experts!