There seems to be no end to the revolutionary growth of the global cannabis market. Despite this exponential growth—especially in the US—the industry is still in its infancy. It's facing some major hurdles on its way to becoming a mainstream consumer category, hurdles similar to the ones faced by the alcoholic beverage industry in its early days.
This blog is about how cannabis brands can overcome these challenges by taking the lessons learned by their beverage counterparts to ultimately grow into a fully mature industry. The hurdle that's hardest to overcome: getting rid of the stigma.
Interested in the potential of the cannabis market? Check out our cannabis infographic and get access to the latest market insights and trends to support your decisions and growth plan!
Transforming the image of the industry



All sorts of false claims are being made about marijuana products, even at the government level. As a result, people now believe the wildest stories about cannabis, making it harder to separate fact from fiction. Our first parallel with the beverage industry is the importance of consumer education for general acceptance and consumption. Today's leading cannabis brands have the power to take away the stigma.
Here are three ways to successfully change the industry's image through marketing inspired by the beverage giants:
1. Connect to a lifestyle people can relate to
Heineken, Jägermeister, Guinness—just a few premium brands calling the shots in the beverage industry. The key to their success: a powerful marketing strategy advocating a lifestyle people can identify with —an area in which cannabis brands still have a long way to go. Recent research found that 67% of consumers specifically look for cannabis brands that fit their lifestyle, while only 35% indicated having found a brand that shared their values*. This is a trend most valuable to canna-business builders.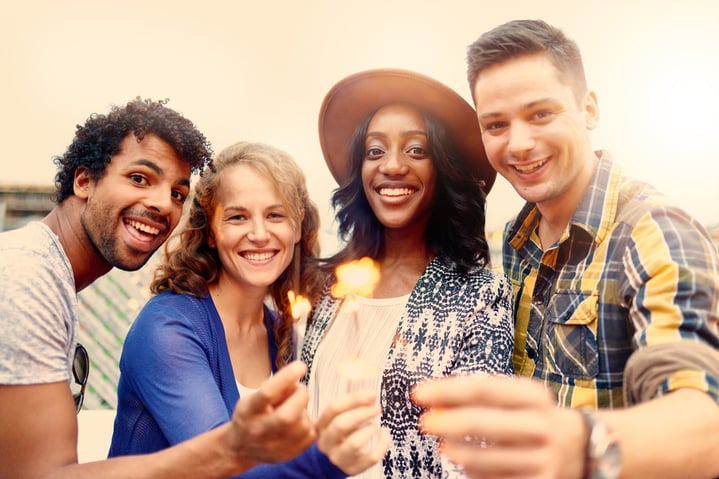 This shows the need to invest in building an authentic brand identity that doesn't speak to the stereotypical cannabis smoker but to a specific target group that shares your values. As one of the first brands to do so, you will be:
Helping the industry overcome stereotyping and stigmatization

Gaining an edge over the competition in no time
Interested in more tips and branding insights? Download our whitepaper 'The green rush at full blast: The smokin' potential of the cannabis market in the United States and discover practical tips to get started on distinctive brand identity.
2. Involve the budtender to enhance customer loyalty
We all know that ordering from a likeable and knowledgeable bartender makes your drink taste twice as good. Just like a bartender, who asks personal questions about someone's taste and offers tailored service, a budtender should be able to make recommendations based on someone's preferences. Beverage brands are fully aware that positive consumer interactions greatly enhance their brand's reputation. They even hire Product Training Managers who are solely dedicated to educating bartenders. To further professionalize the canna-business, investing in budtender training and retention is essential.
3. Invest in premium and sustainable marketing products
To stand out in one of the most competitive markets, beverage brands need innovative, sustainable and high-quality branding materials. So while the battle for consumer attention goes on, these brands invest heavily in creating impactful brand experiences.
With more and more brands entering the arena, the cannabis market is heading in the same direction.
So, to be successful in this area, brands can:
Think outside the box - how can you stand out?
Implement consistent branding at all touchpoints
Use high-quality marketing materials to bind consumers to your brand
Like to share your insights or learnings with us? Feel free to drop us a mail or comment on one of our LinkedIn posts.
*Source: The 2020 Cannabis Consumer report (ICR and Spectacle Strategy)
Don't miss the boat: invest in a premium branding strategy now to get ahead of the competition. With three decades of experience, Dekkers is your strategic branding partner of choice. Together with you, we will devise a premium, innovative and sustainable marketing strategy that will boost your sales figures and help you take the lead in this highly competitive market. Talk to one of our experts to discuss your ideas!