Reducing the Total Cost of Ownership (TCO) of your On and Off Trade marketing solutions by making sustainable choices: we're aware that it sounds a bit contradictory. While we all fully acknowledge that sustainability is the new norm, it doesn't exactly have the reputation of being the most budget-wise solution.
We want to show you that by asking your suppliers the right questions, you'll be able to actually minimize your TCO while making smart material and packaging choices – all while adding dazzling marketing products to your portfolio.
The question is: how can you create the highest possible ROI with innovative and sustainable On and Off Trade marketing solutions?

The answer: keep the 5 critical factors below in mind when selecting your supplier, and challenge them to meet sustainability objectives– in terms of product design, choice of materials, production and packaging – together with you.
1. Cut costs in the design phase – by skipping the design phase
Picture this: You've spared no expense in coming up with an extraordinary design for your latest Trade Marketing solution, only to learn that the manufacturer isn't able to produce such a thing and that your design needs many frustrating alterations. We've all been there.

Pro tip: Don't do it alone. Partner with a manufacturer who is extensively involved in the early stages of product ideation and design. Not only will they make those sustainable choices for you by combining innovative design with excellent material selection – they will save you money in the process too.
2. Ask suppliers about material selection and power consumption in illuminated signage
We're all aware that neon is making way for LEDNeon© in illuminated signage. LED is the obvious sustainable choice because it lowers power consumption by 30-45% compared to neon. In addition, traditional neon signage consists of toxic materials such as argon, neon, and mercury. It's time to say goodbye to toxicity and switch to LEDNeon© for an eco-friendly alternative.
3. Smart packaging => fewer shipping containers => save money
A good supplier worries about the packaging for you and helps you reduce your total logistics volume. In contrast to traditional neon signage, for example, the innovative LEDNeon© signage is made of non-fragile components. This eliminates the need for double packaging and will significantly reduce your product's volume during transportation.

Suppliers who care about sustainable packaging take it one step further even by looking at the choice of packaging material as well. Make sure that no plastic is used and that the packaging material consists of recycled materials.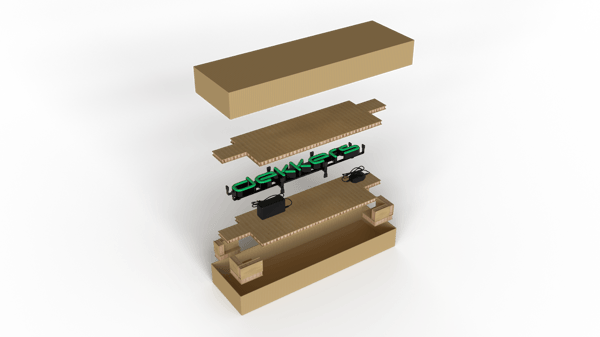 4. Know which reliable sustainability indicators to look for in a supplier
There are a couple of leading sustainability labels that indicate to what extent a manufacturer or supplier is committed to being sustainable and meeting environmental standards.

EcoVadis evaluates a business' policies, practices and documentation related to the environment, labour and human rights, ethics and sustainable procurement. Based on their assessment, they award businesses a label, running from Bronze to Platinum.

Then there's the SMETA label, awarded by Sedex, for production facilities that meet requirements relating to (fire) safety, healthy working conditions, insurances, gender equation and more. Companies either receive a 2-pillar or a 4-pillar certificate.

Last but not least, the United Nations has introduced the Global Impact Initiative: this initiative includes 17 different Sustainable Development Goals that companies, institutions and governmental organizations can openly commit to.
5. Look at the entire value chain
We have a joint responsibility throughout the entire value chain to find sustainable ways of creating On and Off Trade marketing products. Make sure that your supplier takes their responsibility in the value chain seriously by minimizing environmental pollution and creating good social conditions for all parties involved. By engaging the entire value chain, you'll have one less aspect to worry about. This will save you time – and time is money!
Reducing Total Cost of Ownership (TCO) with sustainable choices? Find a partner who takes equal responsibility
At Dekkers International, we are proud to be in the global top 1% of EcoVadis CSR (Corporate Social Responsibility) ratings in the Advertising and Market research industry with a Gold sustainability label. We are also committed to the UN's Global Impact Initiative and are 100% Sedex 4-pillar approved by a notified body (Intertek). We are the founders of the first and second generation LEDNeon© solutions: outstanding promotion of your brand in a highly sustainable and cost-effective way.
Now is the time to take our responsibility when it comes to sustainability. Do you have a sustainability-related question or are you looking for more information? Get in touch with one of our experts. Our in-house design studio is ready to discuss your ideas and help you come up with a branding plan that truly stands out.
The Heineken® Company and Dekkers International
Discover how this top brand's close collaboration with Dekkers International leads to the creation of trendsetting and sustainable branding items, and the adaptation of a successful sustainable growth strategy.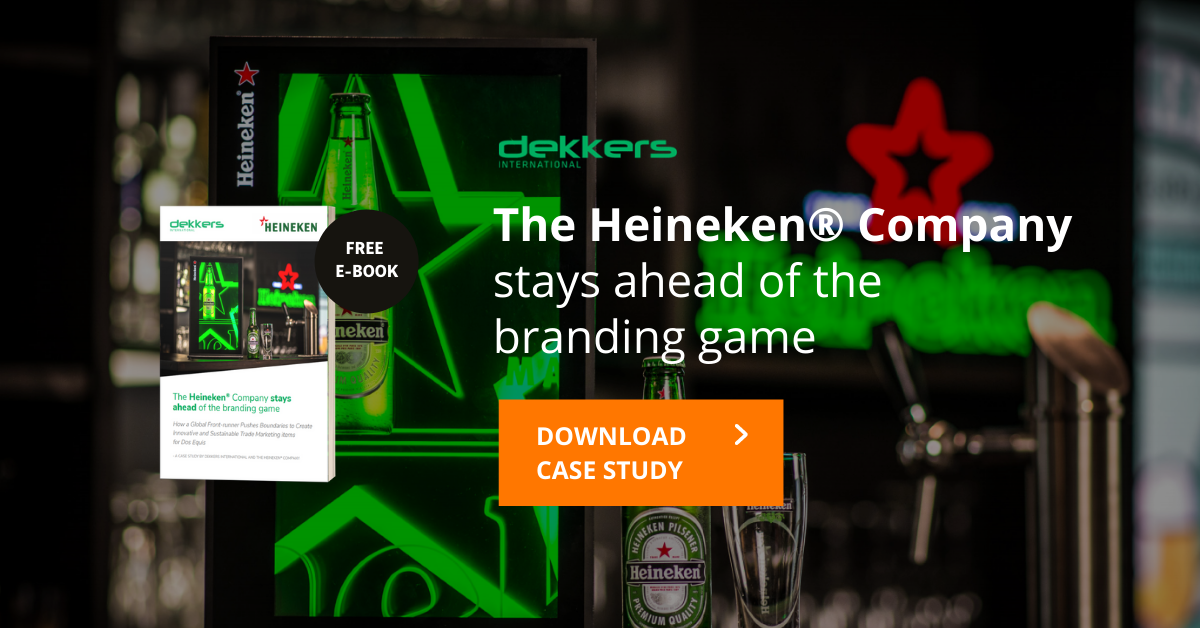 Never want to miss another blog update? Follow us on LinkedIn!