Outdoor branding forms an indispensable component of any solid marketing strategy. To begin with, exterior marketing items such as wall signs or A-stands function as strong eye-catchers that boost brand visibility. For the on-trade market, however, outdoor branding serves a second crucial purpose: attracting customers and inviting them to create impactful brand experiences. Outdoor brand visibility is therefore definitely worth the investment, particularly for venues with an outdoor space. The question is: how do you create the most effective outdoor branding materials? And which specific aspects must be taken into account when creating these items?

This blog explains how to develop effective, high quality and sustainable outdoor branding materials. It also identifies 4 matters to keep in mind when developing an outstanding brand experience.
1. Invest in safe, premium outdoor branding materials
High quality and reliable branding items lay the groundwork for the creation of impactful brand experiences. Needless to say, items that are deployed outdoors are exposed to a much larger variety of environmental conditions than indoor marketing products. It is for this reason that you should pay special attention to the following when inspecting your products:
Overall construction - Can it withstand harsh weather conditions and temperature changes?
(powered) Components - Have these been provided with adequate protection against condensation and rainwater, in accordance with the IP65 Enclosures
Power supply - Has the wiring been properly shielded? Is a connection with a separate power group feasible
Material use - Have UV-resistant paints been used? Is the structure resistant to rust and corrosion?
Brand values and finishing - Are the colors and other elements used in line with your brand values?
Unfortunately, not every supplier devotes sufficient consideration to these issues. You must, therefore, be certain to collaborate with a supplier who upholds high-quality standards, and who is able to provide you with extensive and
independent quality testing reports.
2. Apply the latest innovations in order to reduce environmental impact
When engaged in the development, manufacture and shipping of branding products, we have a joint responsibility to prioritize sustainable business. To achieve this purpose, you must carefully evaluate the materials you're using. For example, you might consider replacing harmful inks and metals with more environmentally friendly alternatives and - where illuminated items are used - implement innovative energy-saving lighting techniques.
Recently, considerable progress has been achieved in the application of solar power as an energy source for outdoor branding materials. You might choose to approach your supplier with questions regarding these innovations, and, together with them, consider the possibilities available for reducing environmental impact.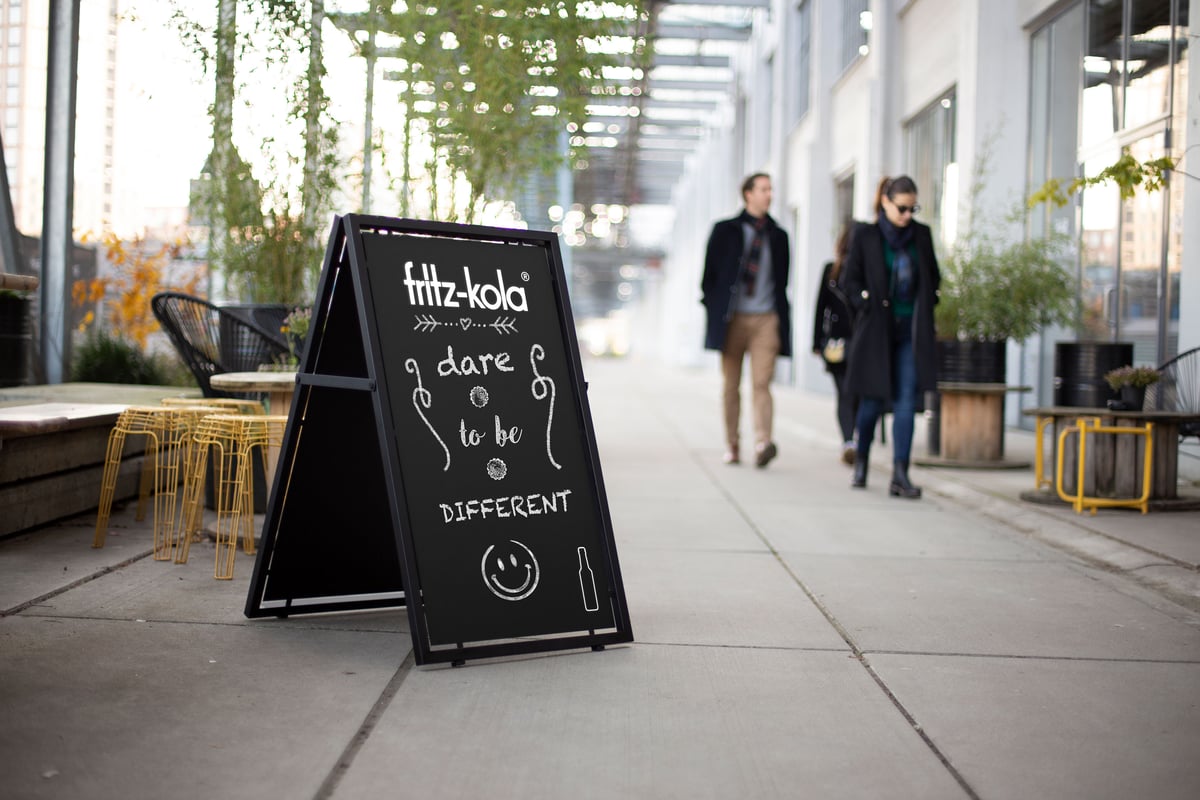 3. Invite people to the venue with premium outdoor branding materials
Outdoor brand exposure at a restaurant or bar isn't limited to parasols, furniture and seat cushions. Premium marketing items, such as wall or sidewalk signs, also contribute greatly to the formation of consumers' brand experience. The effective use of exterior illumination, for example, is a very powerful way to draw in people, and create the right atmosphere. To maximize your visibility and, eventually, your sales figures, it is necessary to achieve the correct combination of light intensity together with color, motion and innovative lighting technology.
Pro tip: Further increase your brand exposure by presenting bar and restaurant owners with custom-made marketing materials. Doing so will create an attachment or association of your name with a local site, which will contribute to the enhanced humanization of your brand, as well as strong relationships with owners. Most importantly, however, your items will probably be placed in a high-profile spot!
4. Reduce your Total Cost of Ownership
When choosing a supplier, look beyond the manufacturing costs alone. While one supplier may guarantee cheaper production than another, you must ask whether they have both considered the extra costs associated with the mounting process.
For example, although lightweight wall signs with user-friendly hanging systems may be more expensive to produce, they save you hundreds of dollars in installation costs per item. By developing a branding plan that takes all these expenses into account, you will generate the highest possible ROI.
Global frontrunner Heineken® has been able to reduce its TCO by means of close collaboration with an experienced supplier. Indeed, Heineken® has realized sustainable growth and cost savings throughout its branding process. Download our case study to find out how: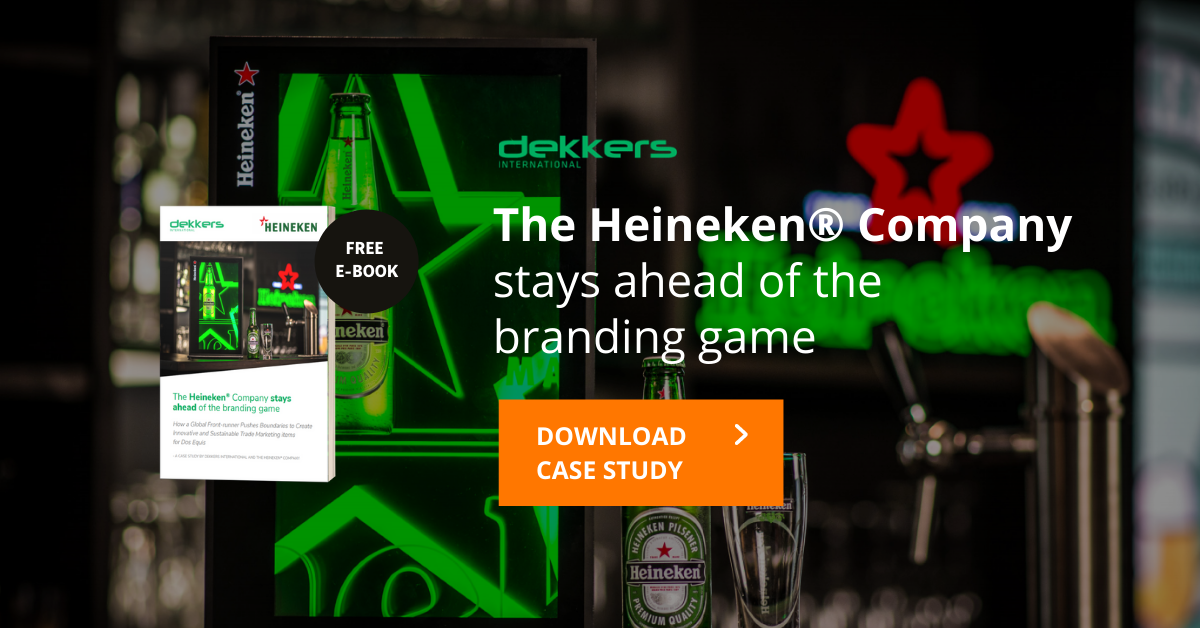 Bringing back the authentic-looking neon signs
Looking for innovative ways to enhance your outdoor brand visibility? Dekkers' experienced and skilled designers will sit down with you and create the most impactful and premium outdoor branding items available anywhere. With sustainability and quality as our major focal points, we will help you create innovative and premium marketing items that have the least possible impact on the environment.
And we continue to be innovative. Our in-house R&D team is constantly working on innovations that are in line with the latest trends in the market. What if we told you we're about to bring authentic neon signs back to the streets, using new technologies? By using durable and advanced alternatives to neon, we're able to authentically reproduce the atmosphere and ambience neon creates - all while preserving the traditional neon look and feel.
Curious to learn more about outdoor branding possibilities? Our experts are ready to discuss your ideas with you.
Follow us on LinkedIn and never miss another update