The growing battle for consumers' attention sees more and more brands prioritize permanent premium branding in off-trade and retail locations. As a result, high-quality marketing items have become a common sight in shopping aisles. Competition on the shelves is fierce, however, and grabbing the brief attention span of customers remains a challenge. With limited space available to promote your product, it's your job as a trade marketeer to develop eye-catching branding items. But how do you create these materials with a strong stopping power?
This blog explains the benefits of high-quality store branding and provides expert advice, based on the latest trends, on how to create effective and unique off-trade marketing solutions and achieve the highest possible ROI.
Focus on durable marketing materials to stay ahead of the game in retail
The switch to more permanent and high-quality trade marketing items can be traced back to the following three developments:
The growing awareness that effective store branding can also boost trade product sales. Consumers buy based on trust, which is earned through consistent branding across various touchpoints.

In fact, consistent presentation is reported to increase revenue by up to 33%*.

With bars and restaurants gradually reopening after the pandemic, brand consistency is crucial if you want consumers to recognize and identify with your brand.
The current difficulty of capturing consumers' attention. Nowadays, consumers are exposed to 4,000 to 10,000 ads a day**, intensified by the rise of e-commerce. Consumers must filter their input to avoid information overload. In order to earn their customers' attention, brands are forced to

provide high-end, relevant brand experiences

.
The adoption of

sustainability objectives

in almost every business, leading brands to focus more on long-lasting, sustainable branding materials.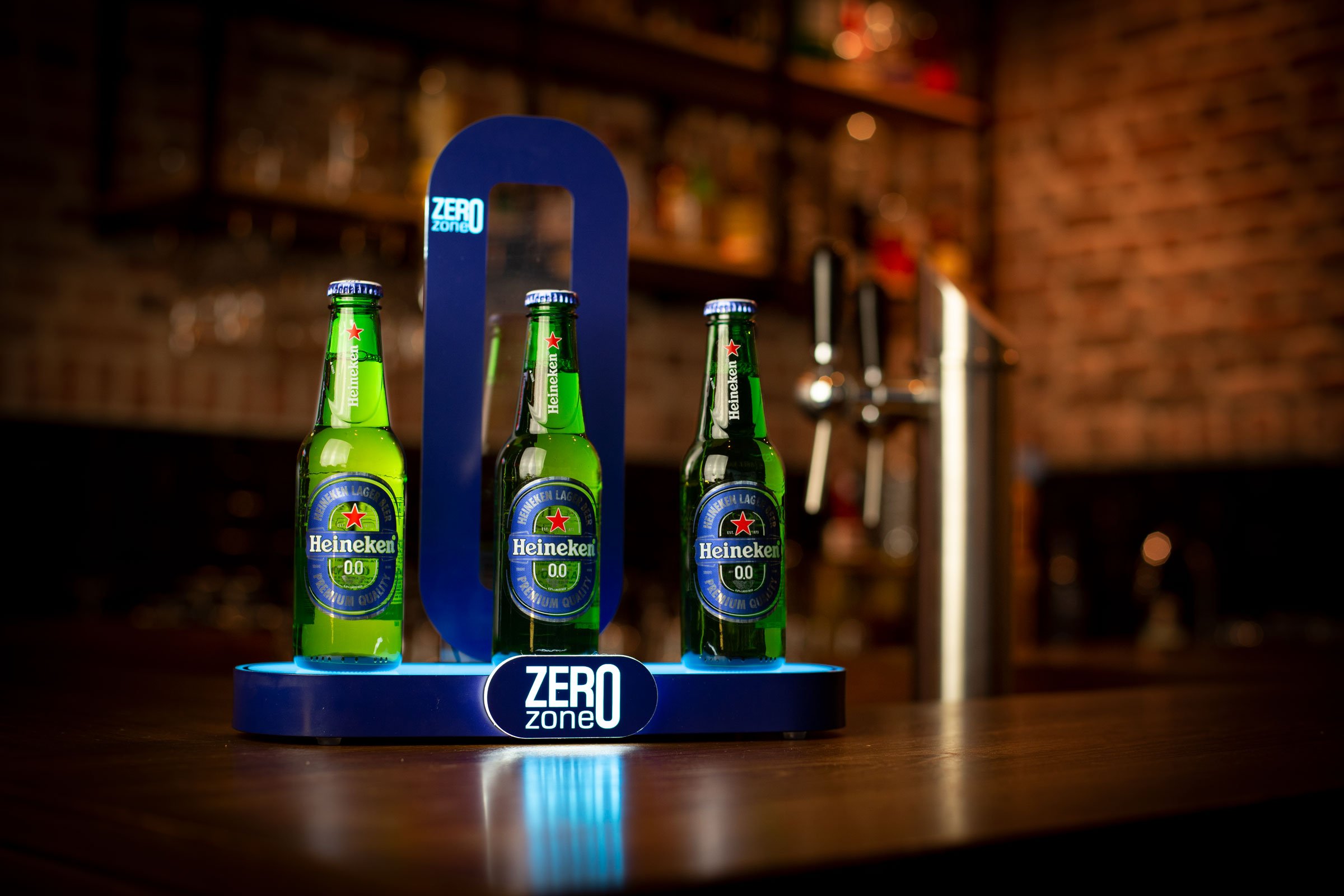 In short: developing awe-inspiring, innovative, and high-quality store promotions is key in getting customers to notice you. A real challenge, especially for smaller brands with minimal shelf space. What is the best way to achieve this? Download our case study to find out how global frontrunner Heineken® pushes boundaries to create innovative and sustainable Trade Marketing items.
How premium branding maximizes your retail branding success
Below we have listed the latest trends in off-trade marketing. Incorporate them in your branding plan to create a solid base for your next successful off trade or retail branding project:
1. Add motion
Moving or animated branding objects are increasingly used to attract and engage consumers. Although this trend is seen in almost all marketing areas, with store branding, the effect of motion is much more prominent. Whereas on-trade marketing is all about subtlety, the limited shelf space in off-trade locations means you'll have to use it to its full potential to capture people's attention. So to get the most out of your branding items, get creative and venture off the beaten path!
2. Bring your passive branding to life
Consumers are increasingly shaping their own brand experiences. These brand-consumer interactions are strongly related to technological innovations: from scanning a QR code to an animation triggered by the opening of a door, and from interactive shelf dividers to augmented reality. Think about ways to actively involve consumers as this is a highly effective way of getting people's attention and maximizing your impact.
3. Illuminate your promotional items
Illumination has long been recognized as a key element in on-trade venues to effectively enhance brand visibility. Illumination can also be very powerful in off-trade marketing, but only when used correctly. An illuminated retail display in a cosy bar is going to have a completely different effect than one in a fully lit supermarket. You'll need to make sure that illuminated off-trade branding actually contributes to your brand goals. Team up with an experienced supplier to get expert advice on how to make illumination work for you.
Looking for inspiration? Check out our retail portfolio for effective in-store branding solutions here >>
Let's develop unique and eye-catching store promotions together
Developing distinctive, innovative, and high-quality marketing materials has never been more important. With over 30 years of experience working with brands in numerous industries, Dekkers International can provide accurate advice on how to maximize your available in-store space. Our in-house design team translates your ideas into eye-catching designs, from the largest displays to the smallest shelf promotions. Perfect for those who want to create eye-catching retail displays and installations!
The Heineken® Company, the world's most international brewer, aims to continuously innovate its branding solutions with ground-breaking Trade Marketing items. Crucial to achieving this objective are:
Sustainable entrepreneurship
Minimizing Total Cost of Ownership
Shortening lead times
To learn more about how Dekkers International helps this top brand realize its objectives, download our case study: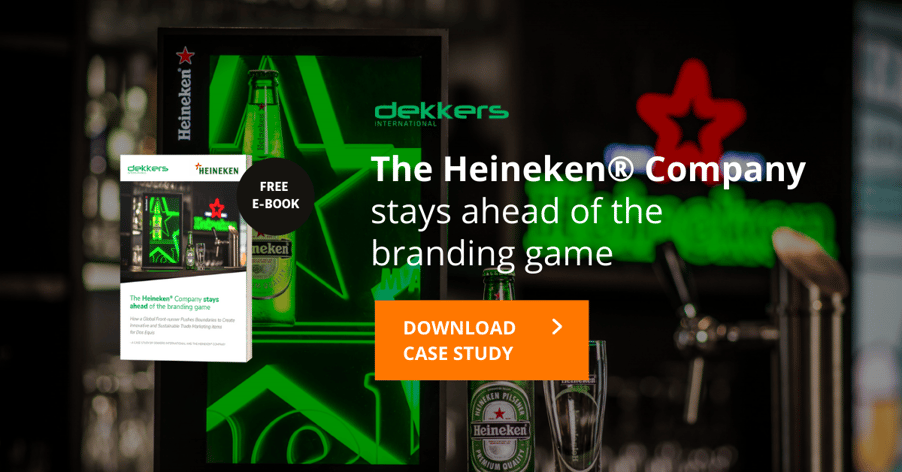 Follow us on LinkedIn and never miss another update!
Sources:
*Lucidpress - The State of Brand Consistency, 2019 (https://www.lucidpress.com/pages/resources/report/the-impact-of-brand-consistency)

**Forbes - Finding Brand Success in the DIgital World - 2017 https://www.forbes.com/sites/forbesagencycouncil/2017/08/25/finding-brand-success-in-the-digital-world/?sh=1f73b811626e